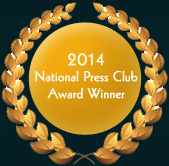 GIR's Investing in the New Europe
Bloomberg Press, 2001, "Sound, practical advice."
Wall Street Journal Europe
2021 GLOBAL SURVEY OF THE TOP 50 HEDGE FUNDS: Hedge Fund Investing During The Time of Covid-19: Part II
30 June 2021 RIA Intel/Institutional Investor
Eric Uhlfelder's 18th annual global hedge fund survey reaffirms many of the same findings he reported in previous annual surveys commissioned by The Financial Times, Barron's, The Wall Street Journal, and last year by SALT. Based on the highest annualized performance over the last five years, the Top 50 funds collectively delivered gains that virtually matched the S&P 500 with significantly less risk and low correlation to the market. Further, in spite of the sharp market collapse a year ago March, 2020 returns of these funds more than doubled the hedge fund industry average gains and outpaced the S&P 500 by nearly 6 full percentage points. The survey tracks various performance and risk metrics, and fund correlation to the S&P 500. The study also includes extensive interviews with leading global allocators, hedge fund managers, economists, and consultants.

Click here to view this article in its entirety.