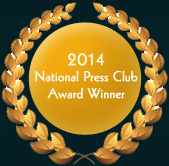 GIR's Investing in the New Europe
Bloomberg Press, 2001, "Sound, practical advice."
Wall Street Journal Europe
2019 TD 5-BORO BIKE TOUR
6 June 2019, WestView News
This Rite of Spring was run in a torrential downpour, which didn't dampen the spirits of the thousands who completed the 40-mile schlepp around the city. 
Click here to view this article in its entirety.